Hank Wangford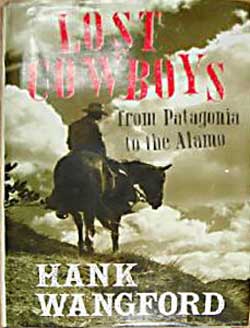 Hank's book about the other Lost Cowboys. Quite a rare book now!

RETURN TO HANK'S NEWS HERE

19 September 2009
Dear Friends,
Delighted to report, from jet setting Wanglisters, that British Airways are still featuring the whole of "Whistling In The Dark" as their chosen Country album on their long haul Transatlantic flights to the USA and Canada.  No wonder their profits have been slashed.
It's short because I need time to write.  Through this Autumn I hope to finish my new book about the village hall tours I have done with Reg Meuross.  I'm a slow laborious writer so it's taking a long time.  I also have a whole slew of stories about the "No Hall Too Small tour so I'll need to majorly edit what I've already written. 
Unfortunately I shall no longer be working with Reg as he has divorced me and is going his own way.  Next year I have plans for a new round of village hall gigs with a new partner but will tell you of them closer to the time.  I've also done some gigs as a trio with Martin Belmont and Kevin Foster in smaller venues. 
I'm off to Transylvania again for my regular visit to the clinics I've helped set up in Romania's second city Brasov.  I'm also hoping to go back to Maramures in the north of Romania, an ancient and beautiful area where time has stood still for the last few centuries.  All the villages here are built in wood – the houses, the farms, the churches – and I want to see if the dead hand of the EU has started to stifle any of the old village ways.  I also need to buy another Clop, the silliest head wear I've ever found – and I've found some pretty silly hats in my time.  My personal favourite of the moment is Snook's Modern Automotive Cap, a marvel in seersucker which Mrs Wangford longs to tear from my head and trash (the hat that is, not my head). 
I'm also indebted to Mr Snook (see the website for links to his gentlemen's outfitters in Bridport) for my first grown-up kilt. I danced like a fiend at my local Notting Hill carnival recently in my kilt. Any gent who's done the same - in the correct fashion with no underwear - will back me up on the joys of dancing traditionally kilted, the spicy aromas of jerk chicken wafting up inside the full nine yards of plaid. Nothing like it.
I intend to crown my Transylvanian visit with the kilt this time. 
See you at one of these venues! 
Hankfully yours, Hank