BEST FOOT FORWARD

MAVERICK
September 2003
Irresistible…







"…Drifting acoustic guitar from Hank and harmoniser Reg Meuross, elegant bass from Kevin Foster (also part of Michael Weston King's band and the excellent Los Pistoleros) and subtle drums from Roy Dodds. The biggest difference from the old days …is that the only lead player is guitarist Martin Belmont. But he works like an army laying down echoey 1950s fills, bass lead runs, and eclectic country touches. Whether it's the Marty Robbins-influenced Wild is the Wind, the ballad Must You Throw Dirt in my Face?, the borderlands feel of Shadows or the simply beautiful Falling Angels there's lots of variety within the album's subtle sound. It might lack the wild wit of the past but irresistible in a very different way." ND



COUNTRY MUSIC PEOPLE
September 2003
One of my albums of the year. If Willie Nelson had recorded this baker's dozen of highly original songs, it would be everybody's. 







"Hank Wangford did as much as anyone to get me into country music. Even though he parodied the genre, his highly inflammable gigs in dives like the Half Moon Putney were the best advert for the music that an impressionable youth such as I could have stumbled across. Hank's recent albums have excited me less. He seemed to be undergoing an identity crisis as he struggled to juggle his original undiluted humour with a more serious approach.
So it's a pleasure to report that Best Foot Forward is, true to its title, a stunning return to form that has got the balance between humour and serious songwriting just right. 
It only took a couple of bars to let me know all the old musical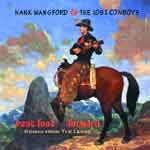 magic was in place. This is a loose, honest, unpretentious recording by a group of Britain's finest country musos (including Reg Meuross, Martin Belmont and Kevin Foster) who play off each other with complete familiarity.
What makes this album, however, is a collection of songs up there with such Wangford winners as Never Wear Mascara When you love a Married Man. A natural sequel to Mascara is the grit kicking Forgetful Man – which wittily portrays a womaniser who conveniently forgets his wife and kids. 
The high standards of this album are defined by the gentle and melodic Falling Angels which is a song as appealing as you could wish for. Other standouts include the African township feel of Watcha Gonna Do?, which features just vocal harmonies, handclaps and the percussion of new drummer, sing's co-writer and co-producer Roy Dodds. 
Wild is the Wind is an atmospheric blend of rock 'n 'roll era death disc and epic folk myth, notable for Hank's involving spoken parts over menacing guitar slashes by Belmont. The deranged yodel at the end, like the unexpected jaw harp on the rdockabilly flavoured Diamond Heart, only adds to this album's off the wall magic. 
Hank's prosaic vocals, the left field content of his songs and the loose, organic production are certainly a world away from the slick output of contemporary Nashville.
For me, those differences spell charm, individualism and integrity. This is already one of my albums of the year. Dare I suggest that if, say, Willie Nelson had recorded this baker's dozen of highly original songs it would be everybody's." 
- Douglas McPherson
UNCUT
October 2003
Lovely understatement





Latest from celebrated sex doctor, TV presenter and current President of the Nude Mountaineering Society.
"Since Gram Parsons switched him on in the early '70s, the "King of Pain" has immersed himself in the history and heartache of country music. Aware of the wafer-thin divide between laughter and tragedy, this time he takes a straighter approach. There's enough variation to mark out the lovely understatement of "Waltz of the Seasons" and a cappella finger-popper "Watcha Gonna Do?" as standouts."
- Rob Hughes

SOUTHERN REPORTER
August 2003
A fantastic album from one of this country's true originals. 
An enigma and a sheer delight. 
Album of the Week -






"Let me say right at the start that this is a fantastic album from one of this country's true originals. I say this because Hank Wangford does tend to move around a bit and people get worried if you can't quite nail him down. 
Best Foot Forward has a rich seam of black humour running through it. How else do you account for Forgetful Man? A jolly little melody carries along with it the most innocent of excuses for infidelity, or the Waltz of the Seasons, sentiment set ot a light waltz. Wangford takes what he does seriously but never, I suspect, himself. 
But just as you're looking for the irony in each track along comes Wild Atlantic Sea, a sincere and beautiful folk song, The fact that it is on the same album as the Bobby Darinesque Falling Angels is just one of the imponderables that make the album and enigma and a sheer delight. 
Wangford, along with the Lost Cowboys, seems hellbent on making the album a coat of many colours. Welcome Here is as theatrical as anything attempted by the late, great Alex Harvey. Diamond Heart is barnstorming Texas bar-room country rock – Duane Eddy with an added mule kick – then it's a short hop over the Rio Grande to transform into a cantina house band on Shadows. 
Best Foot Forward isn't so much music as an exploration of North and South America. Prepare for the journey of your life in the comfort of your own armchair; Stetsons and ponchos must be worn throughout." MM 


COUNTRY MUSIC ROUND-UP
August 2003
"Tender, tuneful and gentle to the point of near delicacy." 
Magic Sam!
Lest we forget, globe-hopping remedial therapist and Good Samaritan to many a far flung third world country's poorest and neediest inhabitants Dr Sam Hutt moonlights as Hank Wangford: writer, broadcaster, TV personality, President of the Nude Mountaineering Society and of course, Britain' premier country music legend. Hank has somehow found space in the midst of these time consuming activities to record with the Lost Cowboys the baker's dozen original songs comprising Best Foot Forward (Evangeline)
With an inclusion entitled Two Left Feet one wonders just which is Wangford's best cowboy-booted extremity. Still he steps boldly but lightly out in the right, often exploratory, direction – in particular the softly hushed yet helplessly fatalistic Waltz of the Seasons, near nursery rhyme Man in the Moon, lilting pseudo-Irish lullaby Wild Atlantic Seam ethereal Falling Angels and rhythmic Caribbean flavoured Shadows. Dunno if Hank's just mellowed in his dotage (joking, Hank!!) but the songs, melodies and executions are tender, tuneful and gentle to the point of near delicacy, with little of the old socio-political fire except on the percussion backed group harmony number, Watcha Gonna Do? 
Country rocker Diamond Heart, the musically rather than thematically Morricone spaghetti western soundscapes Welcome Here and Wild is the Wind (yodels no less!) and the tragic-comic Must You Throw Dirt in my Face? break the mould, while Hank's old stock in trade humour invades the tale of the purposely Forgetful Man who in a sin of omission '...Forgot to tell you he was a married man // It just slipped his mind with you in his hands…' Magic, our Sam!"



SOUTHERN COUNTRY
October 2003
"One of my best albums so far this year by a British band. Definitely my Best UK Product up to August."
"My best set of Americana 2003 was by Hank and his compadres where we got a good sampling of their latest album. With only four months to go this is one of my best albums so far this year by a British band and I hope to see it figure large in the Radio Awards nominations. With a line up second to none there's eight songs by Hank, tow co-written with band members including Reg Meuross who sings his own song and Kevin Foster who sings his own. Drummer Roy Dodds recorded this excellent album somewhere near Wormwood Scrubs. A super ballad about Ireland is My Pick of the Album with track ten a tribute to the late great Marty Robbins and all Hank's friends down on the Falkland Islands where John Cash is still King! Not only is the album excellent but so is the inlay with some brilliant text and drawings – the cover is rather surreal! Definitely my best UK product up to August."
- Colin H Blanchard

JEWISH CHRONICLE
May 2002
Singles Round Up "Wild Atlantic Sea"  PROB MOVE THIS!!!!!!
"Relocated in Ireland these days, one-time Camden cowboy, Hank Wangford sounds almost indecently at home with the swirling Pogues-like blast of fresh air that is his "Wild Atlantic Sea" (Way Out West).