NUDE MOUNTAINEERING SOCIETY

Strippers with Altitude

Welcome to the Nude Mountaineering Society Webpage.  To explain my background in Skinny-Gripping at great heights I'll quote from my rebuttal in the Guardian of the Nepali Mountaineering Society's censure of one of their members exposing his member on the world's highest peak. 

I was drawn into the joys of trouserless peaking by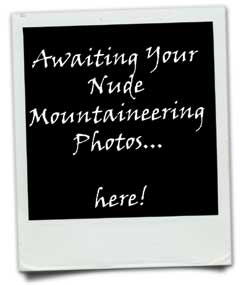 the great George Mallory. Mallory was an English hero, an explorer and mountaineer, and a true English eccentric — brave, foolhardy and inspirational. He attempted Everest in the 1920s and may even have been the first to successfully climb the mountain in 1924. He disappeared and his body was discovered 75 years later very close to the summit. He was wearing a tweed jacket. No Gore-Tex, no down jackets. Was he on the way up or down? We may never know.

My inspiration for the Nude Mountaineering Society, and my assumption of presidency, came from an arresting picture of Mallory and his associate at Everest base camp both wearing jaunty trilby hats and rucksacks on their backs. George Mallory is otherwise naked. His friend has a jacket on but no trousers. It is a wonderful picture, bare-assed cheek and all, that could never offend the spirits of the Great Mountain. These two heroic role models transcend all that and their kecks-free frolics are a tribute, a sacrament to the mountain. And we'll never know if Mallory not only got to the summit but also went for the trousers down approach as an ultimate gesture. Just for the craic.

Some of my other buff-clambers are mentioned in the Guardian article elsewhere on this page. Click here 
We welcome anyone who wants to join the Society (there are no certificates or membership paraphernalia for where would you put them? – just the quiet and private satisfaction of being part of a freedom-loving movement transcending mere borders).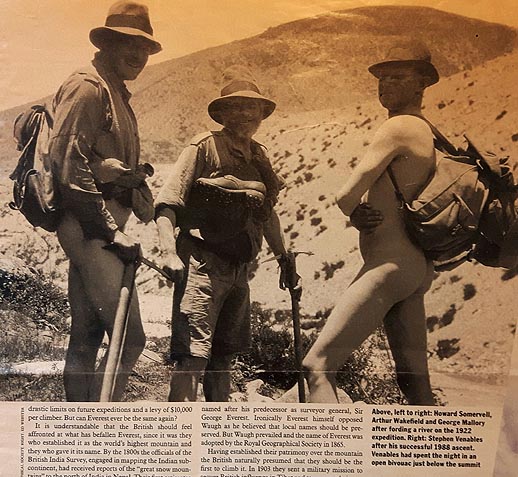 Newspaper cutting showing left to right, Howard Somervell, Arthur Wakefield and George Mallory after fording a river on the 1922 expedition.
To become part of this inter-continental phenomenon email a digital photo, jpeg, of yourself or selves on your personal peak with details of date and place and name unless you want to remain anonymous.  Front or rear views are acceptable though you will notice that as President I avoid exposing the earth-moving equipment for fear of frightening any high climbing horses, yaks or llamas. 

Add a blog-memoir of the day and any details you feel you'd like to share with other like minded mountain strippers.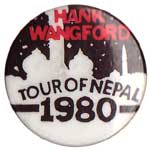 And bingo!  You're in. 
Sincerely and Altitudinally, 
Hank
| top of page |
The Chase - Hank Wangford & the Nude Mountaineering Society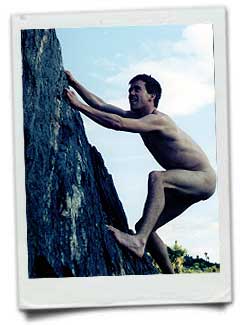 LEFT:
This is the Reverend Funky, Rev Leif Christensen a man of the cloth, like Hank, a minister in the Universal Life Church. He is climbing in Joshua Tree in California near the site of Gram Parsons' legendary hijacked cremation.