YOSEMITE

High up in California's Sierra Nevada, the heart of goldrush territory, lies Yosemite, a sublime valley carved deep into a gargantuan granite crown. Yosemite means "Some of them are killers" describing Paiutes from outside, but it might as well be the mountains.

They are of breat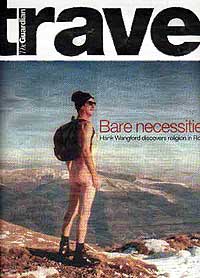 htaking beauty, the whole place a killer. It was America's first National Park. I flew over there this August after Ansel Adams' luminous photographs of Yosemite at the Hayward stirred me. It was promoted and protected by John Muir, an intrepid Scot with a love of wilderness and poetry in his heart. He recognised it as a holy place, "the grandest of all the special temples of Nature." It is a paradise for walkers, rock climbers and for camping out with the bears, chipmunks and coyotes. If we are to believe Ansel Adams or John Muir, the alpine valleys and granite monoliths of Yosemite are the stuff of life.
We should believe.

Before drowning in a sea of interminable superlatives, let's get practical. There are three ways into Yosemite, the camper-crazed 120, the relaxed 140 Mariposa road or the southern Fresno road. I flew out to San Francisco and drove four hours with my son Mat through the endless orchards of California's Central Valley. "Deportees", Woody Guthrie's eulogy to the Mexican immigrant fruitpickers, haunted me. I remembered a film about the illnesses they got from insecticide sprays, "The Wrath of Grapes".

Most of the campgrounds, lodges and hotels - like the amiably luxurious Ahwahnee - are in Yosemite Valley, or in Tuolumne's alpine meadows. Down south is the old colonial Wawona Hotel nearby some spectacular Giant Sequoias. These reach their gangly full height in an awkward first 800 year spurt. Then like humans they just get fatter for the next two millennia. Here is the famous tree with a stagecoach tunnel and the 2,700 year old Grizzly Giant.
Yosemite Valley is very different from the high country above. Corralled between three thousand foot high granite cliffs in a pastoral mile-wide gorge, the Rio Merced - Mercy River - snakes past ponderosa pines and incense cedar and through lush meadows with black oak and willow. We camped under the pines right below Half Dome and Glacier Point. Oriental and Mexican families come in whole neighbourhoods and eat round communal campfires. People play in the river, cycle round the woods and meadows of the valley under the massive rockfaces and waterfalls or go on trails with park Rangers. British accents are surprisingly common. Our first neighbours though were a hillbilly family who played Christian rock.
"God told me to look in the guitar case," says T-Bird, " 'n it was empty. My sister'd sold it - hurts more when it's family. Praise the Lord!" As they strike camp the teenage son practises his Ninja moves with a tentpole.

Each campsite has fireplaces, a table and a steel bear-proof food box. If bears smell something or see a cooler they can tear open a car. All food must be locked away to keep the bears wild and uncorrupted by humans. One evening I was bathing in the Mercy River and saw a bear just upstream. That night we heard pans clattering. While we stared expectantly through the night trees and Mat videoed through the gloom, the critter snuck round behind our campfire and was checking our bear box before I could even rattle my pans.

Incidentally, the campsite resolves an eternal uncertainty I've felt about saying lavatory or toilet, bathroom or restroom. Now and forever more it shall be the Comfort Station.

Yosemite Valley is Ahwahnee -"the gaping mouth" - to the Ahwahneechee Miwok.The Fresno road reveals the classic view of this open mouth. An image envelopes you like a warm memory, reassuringly familiar from old Westerns and Ansel Adams' iconic photographs. Out of a softly curved forested glacial valley, tower cliffs that frame the valley beyond, on one side El Capitan's sheer granite rockface, on the other the filigree Bridalveil Falls.

At the far end the 8,800 foot top of Half Dome glows like alabaster in the sun. This, the greatest of Yosemite's rounded polished granite domes was sheared in half by a vast glacier. Or so the white man says. To the Ahwahneechee it is the tearstained face of a woman from a dysfunctional family turned to stone after beating her abusive husband with her basket. Basket Dome rears up the other side of the canyon beside her husband, now North Dome. Stroll up to Mirror Lake and take a look. The tears are still there.

One morning a Buffalo Soldier led us through the valley's sunny meadows below the soaring cliffs like a pied piper, his fingers fluttering across an Indian flute. The Buffalo Soldiers were all-black Cavalry and a detachment came to protect Yosemite in 1904. Ranger Shelton Johnson, a black American, has researched and recreated the life and thoughts of Elizio Bowman, a Buffalo sergeant stationed here. Dressed as a cavalryman, it was a lyrical performance that took us back a hundred years.

"Muir is like a preacher," he says, "Granite is his religion." Custer, says Elizio, was a racist, didn't like blacks, so took the white 7th Cavalry to Little Big Horn. The Buffalo Soldiers uniquely celebrate Custer Day in grateful thanks.
"History is point-of-view," he explains to children, "Camping under apple trees - bears like apples - is either dangerous or exciting. Depends on your point of view."

If like myself you are fiercely athletic, you can climb 3,000 feet along the trail from the serene valley floor to Glacier Point. Or you can take the bus and save yourself for the Panorama Trail, eight heavenly miles through the High Sierras. The view from Glacier Point is a majestic granite sculpture park stretching all around and far away. Bleached white domes against bright blue sky, massive cliffs, mountain ranges, canyons The Valley floor looks like a map of itself with our campsite so far down below. On nearby Overhanging Rock a century ago crazy Americans did handstands and high kicks in long dresses over the drop.

This August there was a heatwave. The air was extra hazy from smoke from lightning fires so the views didn't have the pinpoint clarity of Adams' photographs. Instead they were hot and dreamlike but no less affecting. First, passing through shifting perspectives of Half Dome and the High Sierra, while two miles away and thousands of feet below Nevada and Vernal Falls are roaring in the blazing heat of summer. Much later we join the John Muir Trail, the end of 184 miles across the Sierras from Mt Whitney. It thrusts us headfirst into the landscape. From a walled promenade clinging to a cliff we are blinded by Nevada Falls tumbling down a vast burnished granite bowl below the rugged sugarloaf of Liberty Cap. All is so massive they are the stuff - the waterfalls, the domes - of dreams. It is the visions of wildness on this massive scale that astonish and overwhelm. Mat and I would constantly mumble "Vista!" out the corner of our mouths as view after view took our breath away. Meanwhile for light relief, watch certifiable rock climbers dangling from the 3,600 foot sheer granite rockface of El Capitan for up to ten days on their way to the top.

We went one night to lie in a meadow for some tutored stargazing. We watched shooting stars, the fiery Perseids slashing across the heavens. We learnt that Arcturus, a bright star an arcing leap across from the Plough, was Coyote's eyeball. Coyote, the Native American Trickster was juggling with his eyeballs, as you do. He threw one into the sky where it got stuck. Coyote howls at night for his lost eyeball. We went back again to El Capitan's meadow for more stellar fireworks. A live coyote crossed our path, ran off into the dark and spookily howled into the sky. We lay down and watched the fizzing remnants of a comet's tail race across the inky skies from El Cap's monstrous shadow past Coyote's eyeball. A special and holy place.

A reconstructed Indian village has a trail through acorn granaries, ritual sweatlodges, and cedar bark tipis that are sweet and cool in the summer heat. Inside the nearby museum two Miwok women sat weaving baskets and making twine from willow twigs. Julia Parker - "I'm seventy three and a half" - has written books on Ahwahneechee life. My favorite is on acorn gathering and preparation. She showed me a picture of the basket she made for "the English Queen" in 1980. The royal couple stayed at the Ahwahnee Hotel in Winston Churchill's footsteps. Lee Stetson regularly performs as John Muir in Yosemite with a restless and convincing energy. Sitting by a campfire we heard Muir's wilderness stories, of hanging atop a Douglas fir in a storm, of surfing an avalanche down a cliff. The right stuff.

Eight thousand feet up in the high country are the pastoral Tuolumne Meadows, more open than the Valley with domes and peaks away in all directions. As you enter the Meadows Pothole Dome sits on the left, waiting to give the most indolent a simply attained and staggering panoramic view. Fifteen easy minutes takes you to the round top of this dome. Jeffrey pines contort from cracks in the granite affording welcome shade from the wild Sierra sun. As President of the Nude Mountaineering Society and with the temperature over 95° I took a naked scamper up the white granite ball. The high breezes were delicious and the view sublime. From Lembert Dome over in the Meadows to the Cathedral it is, well, how many times can you say breathtaking? Do you search for more superlatives or simply say that Muir, Adams, Roosevelt, the Queen of England or four million visitors can't all be wrong. Later a family sets up their camera and poses on the dome. "Do another honey," says Dad, "Is it Xmas-cardable?"

One tradition now gone is the Firefall. At nightfall in summer the fiery embers of a huge wood and cedar bark fire was pushed off Glacier Point down into the valley. Our camp host Jack Houchens remembers it fondly; the unearthly red firefall pouring down a massive granite rockface made up for the dried up waterfalls in the summer. A booming voice would send "Firefall!" echoing through the darkling valley and the crowd would inexplicably start singing the Indian Love Call from Rose Marie -- "I'll be loving You-oo-oo-oo-oo-oo-oo" -- as the fire cascaded down. Hard to police, it ended in 1968.

On the way back home we pass a building with two shopfronts.
"Cake Decorating" sits next door to "Diet Centre".
Welcome back to the real world.
©Hank Wangford August 2002